Coping with Vision Loss Caused by AMD: Support, Resources, and Assistive Devices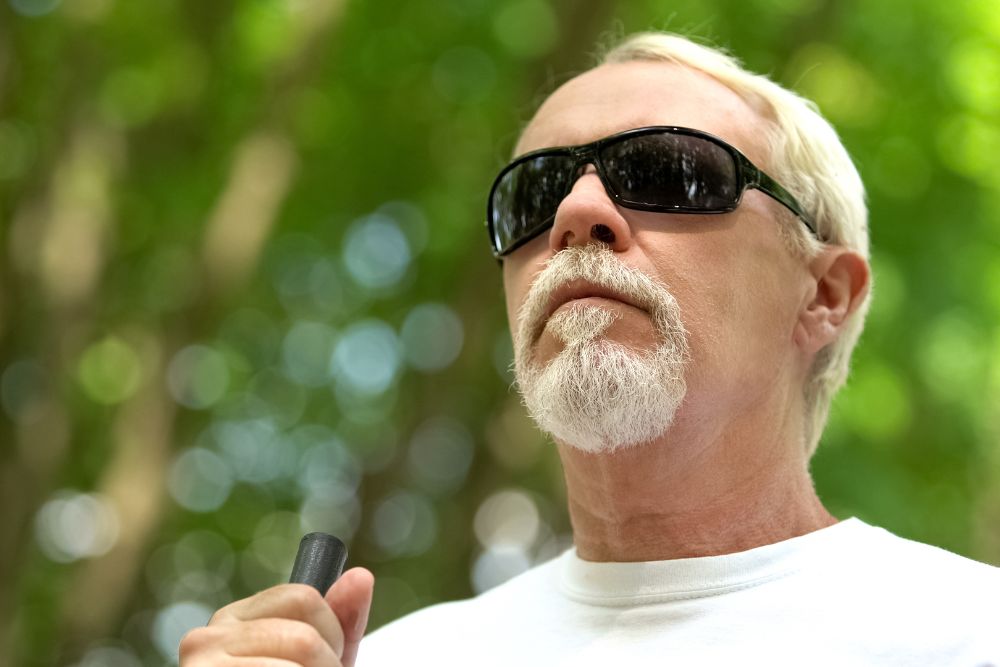 Age-related macular degeneration is very common and is the leading cause of irreversible vision impairment among US adults. Beyond the physical impact, its gradual vision loss to mental and emotional health may be just as damaging. Fortunately, there are resources, including assistive devices and programs, that can help you to cope with your vision loss. You and your ophthalmologist can also discuss lifestyle changes to safely and successfully navigate and enjoy your life.
The Emotional Impact of Age-Related Macular Degeneration
As age-related macular degeneration (AMD) patients know, it can wreak havoc on mental and emotional health. While you won't become blind, you may lose all of your central vision. Research shows that over 40% of patients with AMD experience depression, and it can last for a long time. As patients may experience social isolation, they may withdraw even more. Common depression symptoms include:
Frequently feeling sad, anxious, helpless, or worthless
Appetite and/or weight changes
Decrease in energy or fatigue
Talking or moving slowly
Changes in sleep habits
How to Cope with AMD's Vision Loss
AMD patients may find things they've taken for granted — work, physical activity, social life — more difficult. With some adjustments, you can maintain your independence and continue with your normal activities.
Strengthen Your Other Senses
With AMD, relying on your hearing and other senses may prove helpful. Pay full attention, rather than dividing your attention between vision and hearing. Using audiobooks or screen-reader software can help you remember more.
Use Low-Vision Devices
AMD patients may benefit from using such low-vision devices as magnifiers, special lights, and digital assistance devices. Your doctor or a low-vision specialist will recommend these devices. They may also help you develop a vision rehabilitation plan, spotlighting relevant processes and assistive devices. You may also consider:
Using brighter lights at home or work
Wearing eyeglasses, including anti-glare or those with video cameras
Using a magnifying lens or computer screen for up-close activities
Use voice-activated phones, computers, and appliances
Using a cane or walker outdoors may be helpful
Share with Loved Ones and Others
You should discuss your experiences with your family and friends, as it may be therapeutic, providing emotional support or a social connection. You could enroll in a lifestyle adjustment course, led by an experienced coach, and learn how to manage your condition and enhance your quality of life.
Make Adjustments To Your Home
With AMD, you should ensure that your home is safe and easier to navigate. While it may take some time, eventually, you'll figure out how to continue doing everyday tasks and hobbies. Among these home modifications are:
Using contrast, such as placing dark objects against a white wall
Using overhead lights, nightlights, and extra lights on stairs
Installing handrails on steps and stairs
Keeping walking areas open and clear
Using skid-free mats and grab bars in bathrooms
Labeling medications with large-print stickers or tape
Rearranging your furniture to make it easier to move around
Maintain Your Vision and General Health
Everyone needs annual comprehensive, dilated eye exams, but they're vital for adults 65 years and older in order to identify AMD earlier. Patients 40-54 should visit their ophthalmologist at least every 2-4 years, while those over 55 should schedule one at least every 1-2 years. You should manage any chronic (long-term) conditions, like cancer, heart disease, and diabetes, and take any prescribed medications.
Specific lifestyle changes may help patients slow vision loss and preserve existing vision. Healthy eating, like the Mediterranean Diet, is associated with lower AMD rates. Regular physical activity improves your mood, reduces stress, and lowers the risk of developing vision issues. You should also avoid smoking, which boosts eye disease development risks.
Embrace Strategies To Manage AMD Vision Loss
With AMD affecting millions, patients need to employ tips and tools to live with its related vision loss. Your ophthalmologist or low-vision specialist can discuss options, including having regular, comprehensive eye exams. For any questions, or to schedule a consultation, contact Palmetto Retina Center today.