How Does Blue Light Affect Your Retina?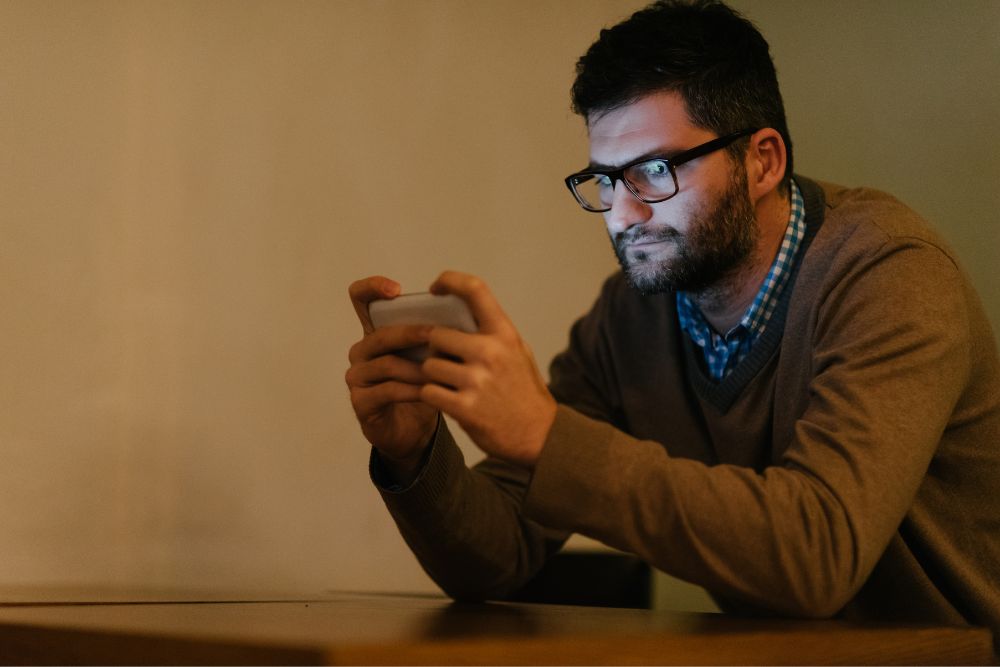 Did you know? On a sunny day, the white light we see is made up of seven different colors — red, orange, yellow, green, blue, indigo, and violet (or "ROY G BIV") — that make up the visible light spectrum.
There's little escape from the electronic screens of our smartphones, TVs, and laptops. But our ever-present viewing could increase blue light exposure.
How Does Blue Light Affect Eyes and Vision?
The visible light spectrum's colors each have their own energy and wavelength. Light appearing white, like sunlight, exposes the eye to large amounts of high-energy light, such as ultraviolet (UV) rays and blue light, which can increase eye disease risks. As blue light has more energy per photon of light than other colors, it may be more dangerous in higher doses when absorbed by cells.
Aside from sunlight, blue light sources include fluorescent light, compact fluorescent light (CFL) bulbs, and flat-screen LED TVs. There may be a link between eye damage and short-wave blue light, with wavelengths between 415 and 455 nanometers. For smartphones, TVs, and laptops, the wavelengths are generally between 400 and 490 nanometers. Health experts believe that this blue light may contribute to vision concerns, due to the time spent looking at their screens, in close proximity.
Blue Light And Retinal Concerns
Excessive blue light exposure is most often associated with problems such as eye strain and dry eyes, but there is some evidence that it can possibly cause retinal damage. Almost all blue light passes straight through to the back of your retina, and over time, this can harm retinal cells, perhaps permanently. Blue light may also release toxic molecules in retinal cells, leading to age-related macular degeneration (AMD) development.
How To Manage Blue Light Exposure
At this point, it's probably unlikely to avoid all blue light exposure. But your ophthalmologist can discuss ways to reduce blue light and protect your retinal health.
Screen time – You should reduce screen time for yourself and your family, as regular breaks can give everyone's eyes much-needed rest. This is particularly important for children's eyes, and they should turn off all electronic devices at least 30 minutes before bedtime.
Filters – You can install screen filters for smartphones, tablets, and computer screens. They can reduce the blue light emitted before it reaches your retinas. A filter removing 94% of blue light may lessen AMD damage.
Computer glasses – These glasses' yellow-tinted lenses block blue light, which increases contrast that helps to reduce digital eye strain.
Intraocular lens (IOL) – This artificial lens, which replaces the cloudy lens in cataract surgery, naturally protects the eye and retina from almost all UV and some blue light.
Schedule a Consultation For Retinal Health In South Carolina
You can take steps to reduce blue light and make changes to preserve vision. To schedule an appointment with a retinal specialist, contact Palmetto Retina Center today.